This cabin was build in Chile for $165K and completed in 6 months by the ZeroCabin crew. "We build houses that only use rain, sun, wind and water, with the best materials and technologies. it is not a simple house, it is a lifestyle" they explain.
They created a way to assemble these pieces of architecture that are fully adaptable to the environment.

We do not seek to make houses with character, space, or identity … our architect is nature and its rules, and from there we create something for you.

ZeroCabin founder Felipe Lüer
The result is a respectful mutualism that will not break the limits of the environment and in gratitude you will be able to live without any energy bills.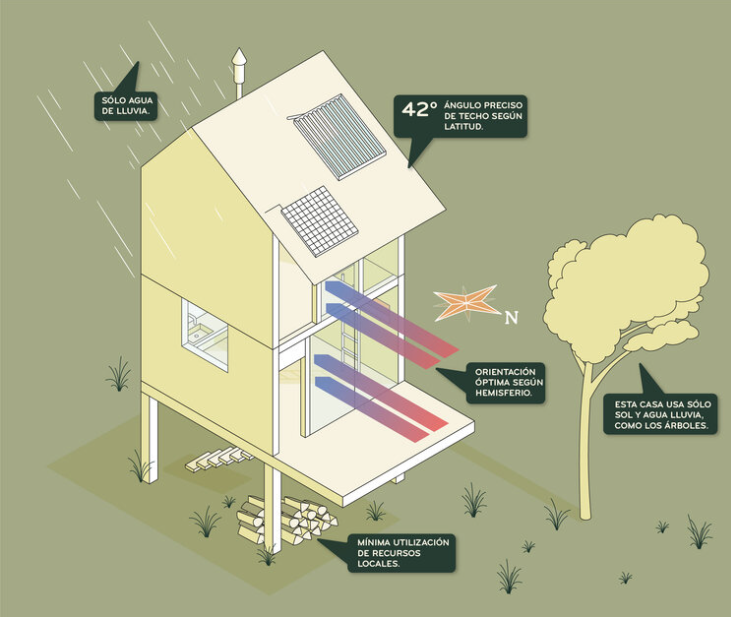 Each of the ZeroCabins is based on these 4 principles :
FREEDOM : 100% OFF THE GRID AND PASSIVE HOUSE
Never pay a bill again! Regardless of the model, they all have a design base that allows optimal capture of their only inputs, such as trees: sun, wind and rainwater.
The ZeroCabins are 100% self-sufficient: rainwater collection, maintenance and sanitation system. Reuse of water (shower to toilet). Black water treatment (worm filter). Hybrid electricity (solar / wind). Room heating (firewood or aerothermal). Hybrid water heating (firewood / sun or sun / heat pumps, etc). The energy requirement from the outside is zero. We use the best sealing and assembly technology in the Rothoblass world.
100% FUNCTIONAL CABIN
All the technologies for the autonomy of the ZeroCabin come ready to use, with warranty, use and maintenance manual.
From there, there is a wide margin of modification depending on what you dream of and the adaptation to the limits of the land where we will build. Two floors, one floor, on stilts or at ground level? Everything can be the ZeroCabin is a tree-house that adapts to you.
The furniture is also created, they will adapt what you want from your pinterest board, and make your dream space come true with an interior design that is customized according to your requirements.
ZERO IMPACT
Each ZeroCabin is a perfect mutualism between you and nature, its construction adapts to wherever you want.
A ZeroCabin only needs a path. They do not require a boom truck and because of the construction technology (through assemblies) they can take the materials anywhere even when the construction site is far from the car path. You decide how deep in the forest you want to live in.
SUSTAINABLE TOURISM NETWORK
If your land is incredible, and your ZeroCabin is a second home, you can generate income when you are not using it, by belonging to the 100% ecological tourism network they operate.
Minimize your impact on the ecosystem and live free under the auspices of nature!
For now, ZeroCabin are build throughout Chile but soon throughout the world. Contact ZeroCabin to know when they will be available worldwide.
The ZeroBuilders Community
100% OFF THE GRID – INSERTED INTO FORESTS WITHOUT LEAVING A FOOTPRINT
Customers around Chile and the world are buying ZeroCabin 100% autonomous zero impact DIY kits. Many of them need to hire extra help to build their ZeroCabin kit. So they are putting together a team of expert ZeroCabin builders, the ZeroBuilders. By being part of their brigade, they will connect you with their clients and you will work with them putting together their freedom kit.
Photos courtesy of ZeroCabin