CABN is a green technology company advancing an innovative manufacturing process for net-zero, cost-efficient, component modular housing. CABN delivers a home within 12 months from the signing of the contract, and it's typically move-in ready six weeks after delivery.
CABN is designed to optimize energy efficiency, exceeding Passive House standards. How the home is positioned and its building envelope are key to the performance of the home. Aesthetic and interior design choices, however, can be upgraded.
Sustainable Process
WHAT DOES NET-ZERO MEAN?
CABN design strategies are net-zero, which means that energy conservation, efficiency, and on-site renewable generation account for 100% of a building's (or community's) energy usage. CABN offers a housing solution that is affordable for individuals. After construction, CABN continues to be affordable, with less energy & maintenance expenses.
CABN uses an innovative manufacturing process to create net-zero, cost-efficient, component modular housing with a fully integrated heating, cooling and solar energy system. Built on a steel frame foundation, CABN features sustainable cladding options and R-40 insulation, finished with high performance windows and doors.
The angle, shading, and size of CABN roofs are optimized for solar energy generation and solar gain. Shading optimization helps keep the building cool in the summer, while in the winter, the lower angle of the sun allows solar energy to enter through the windows and heat the unit. This, combined with high-quality insulation and systems, results in significantly lower energy requirements to maintain temperature throughout the year.
Construction
SUSTAINABLE CONSTRUCTION TECHNIQUES
Through the practice of selecting sustainable materials and processes, CABN minimizes its carbon footprint and massively reduces waste in the construction process. CABN's non-invasive approach to site assembly is one such example of how its building practices further reduce its impact on the environment.
CABNs are designed for quick component- based, non-invasive construction. Every CABN has the option for on-grid connection to municipal services, as well as off-grid functionality for total comfort in any environment.
CABN offers a complete component-based package that can be rapidly assembled in remote and rural locations while remaining high-tech and comfortable.
Site Assessment & Permits
SITE ASSESSMENT FEE $1,600.00
CABN offers site assessments to develop the best strategy for new owners based land, regulations, and optimized performance.
This consultation reviews land, permitting, and design considerations. CABN will provide a comprehensive cost analysis, construction scheduling, and site drawings, assessing the viability of your land for a CABN unit. These are performed virtually. If you move ahead with the purchase of a CABN, the site assessment will be deducted from your final purchase price.
CABN has worked to create a line of prefab homes that fit within many of the permitting requirements found within Canada and the U.S. For example, their smallest model, HUTT, is available for preassembled delivery and fits within the regulations of many jurisdictions. All models are code compliant across North America.
Features
WHAT DOES THE PRICE INCLUDE?
CABN offers four separate models that range from the one-bedroom MOR.II (540 sq ft., starting from $219,000) to the four-bedroom GES.TALT (1,850 sq ft., starting from $549,000). Included within this price is the mass-timber structure itself, aluminum cladding options or alternatives, high-performance windows and doors, full HVAC and mechanical systems, and a solar array roof system (complete with a backup interface and a battery energy storage system).
The interior can be customized so homeowners can individually curate their own experience. The buildings feature a straightforward construction process, allowing for assembly in days and finishing in weeks, with the final product using 20 percent of the energy required for a traditional build of a similar size.
Design
CABN'S DESIGNS PRIORITIZE ENERGY EFFICIENCY
For comfort, CABNs utilize a radiant floor heating system. Smart home technology allows owners to monitor and maintain temperatures throughout the CABN.
Mechanical systems are optimized for comfort and efficiency, integrating leading technology through heat pumps, heat recovery ventilators, linear diffusers, wall hydrant with vacuum breakers, and split duct systems.
The solar-powered roof feeds the CABN battery bank, offering energy no matter where the home is located. CABN homes are designed around the sun and can use as little as 1/5 the energy (varies based on location) of traditional construction strategies.
MOR.II – 1 BEDROOM UNIT FROM $219,000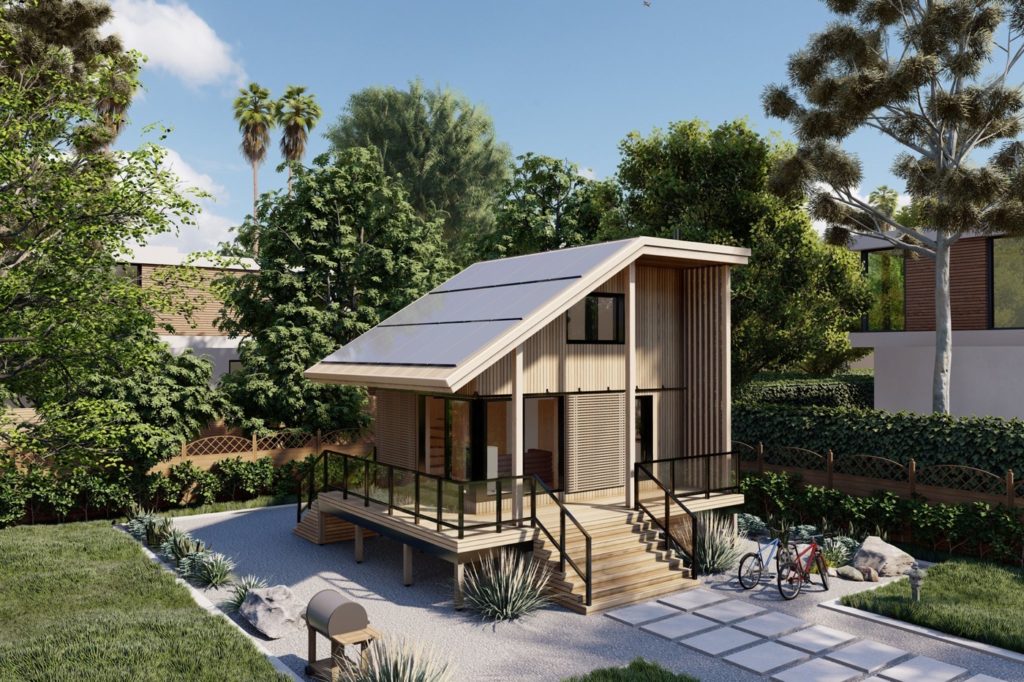 The MOR.II is a 540 square foot model and the smallest unit CABN offers. The MOR.II features one bed and one bath– the perfect answer for a laneway suite, bunkie at a cottage, or a forested retreat. A lower level living and kitchen space opens up, via soaring ceilings, to the lofted bedroom.
Bring the outside in through expansive glass doors that open up to the 300 square feet of deck. Inspired by the "desire to capture a fleeting experience," MOR.II is a taste of a minimalist lifestyle amongst intentional design and intelligent technology.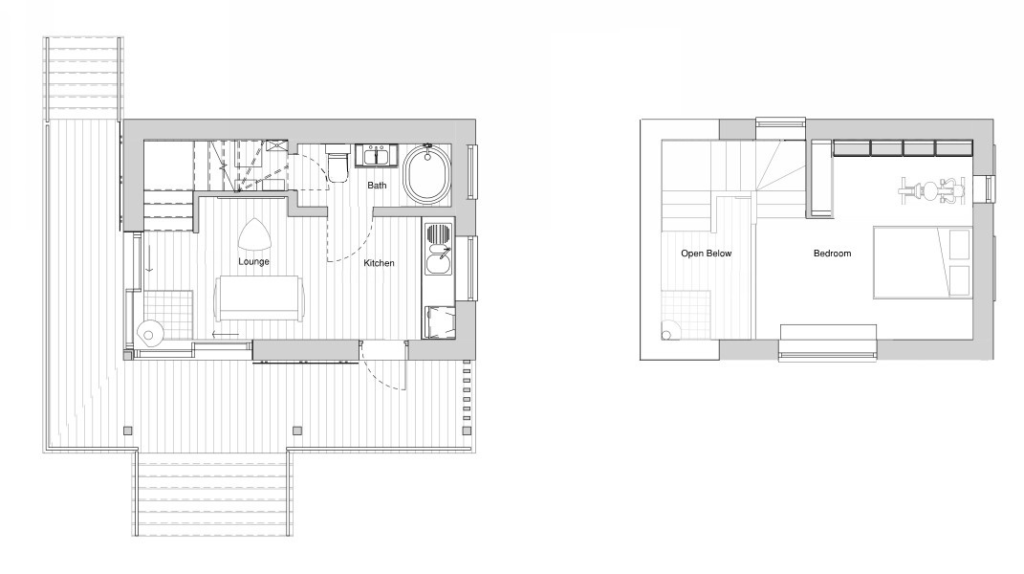 SON.DER – 1 OR 2 BEDROOM UNIT FROM $299,000
The SON.DER is CABN's 750 square foot model that has options for a one or two bed configuration, both with one bath, offering choice for young families, retirees, or weekend adventurers.
The lower level is designed to accommodate an open concept kitchen and lounge with access to the washroom, while lofted sleeping quarters on the second floor overlook the ground floor. Note that the images feature the CABN Showhome, in a one-bed loft confirmation and premium finishes.
The SON.DER is surrounded by over 255 square feet of deck, shaded by CABN's specifically designed roof pitch. Named after the awareness that everyone has a story, SON.DER is the perfect sanctuary to write your next chapter.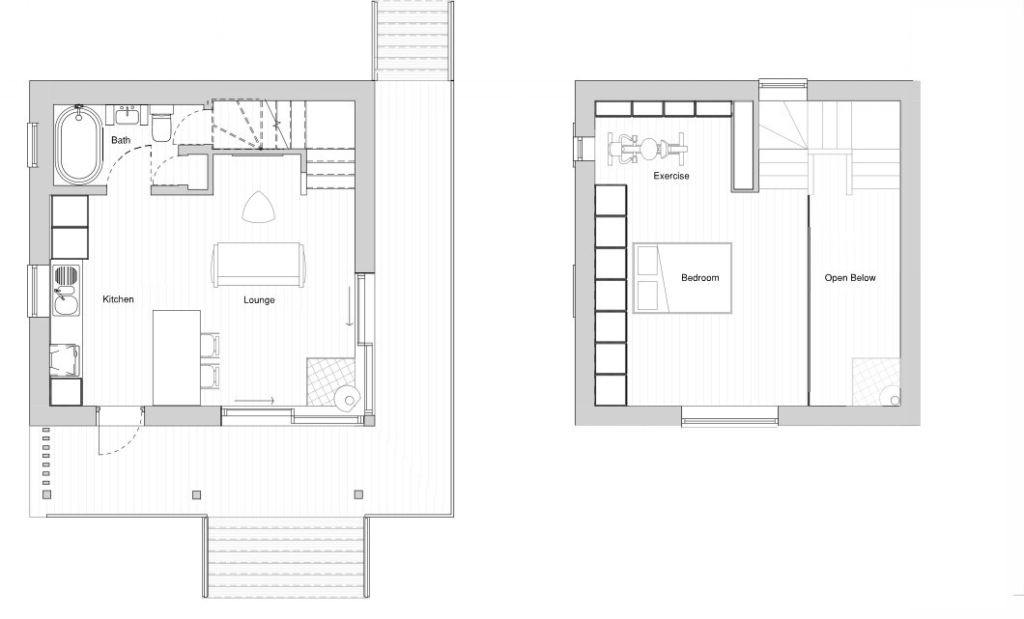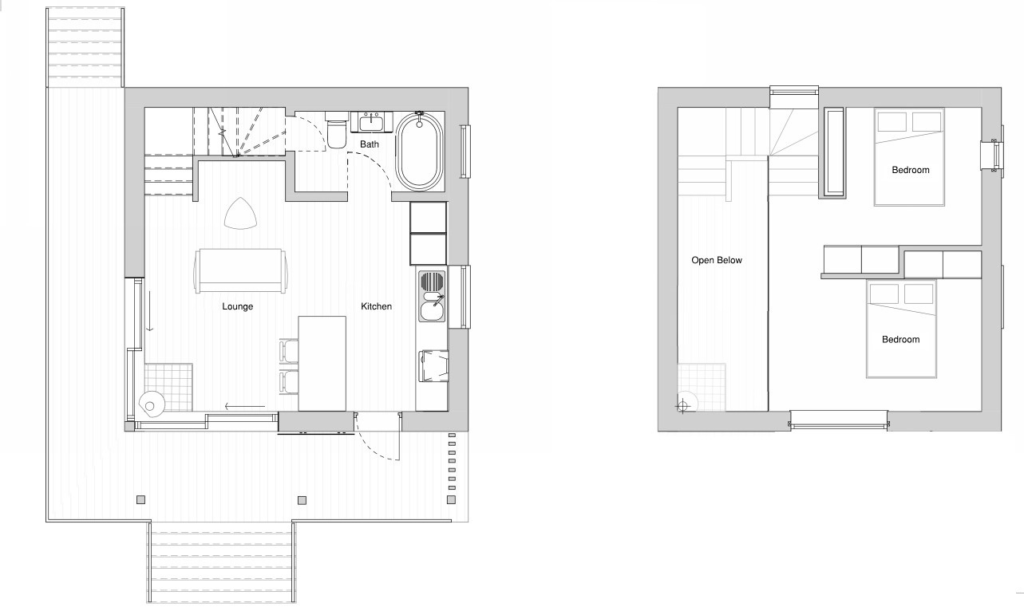 HYG.GE – 3 BEDROOM UNIT FROM $399,000
The HYG.GE is a 1120 sqft, three bedroom, two bath model, featuring a ground floor bedroom for ultimate flexibility. This CABN features a generous entryway as well as ample storage throughout the home. Perfect for a weekend getaway or a primary residence, the HYG.GE offers options and space.
Inspired by the Danish idea of coziness, HYG.GE offers a perfect retreat with all the comforts of home. Opt for a warm fireplace for winter coziness, or relax on the over 300 sqft of wrap around deck.
GES.TALT – 4 BEDROOM UNIT FROM $549,000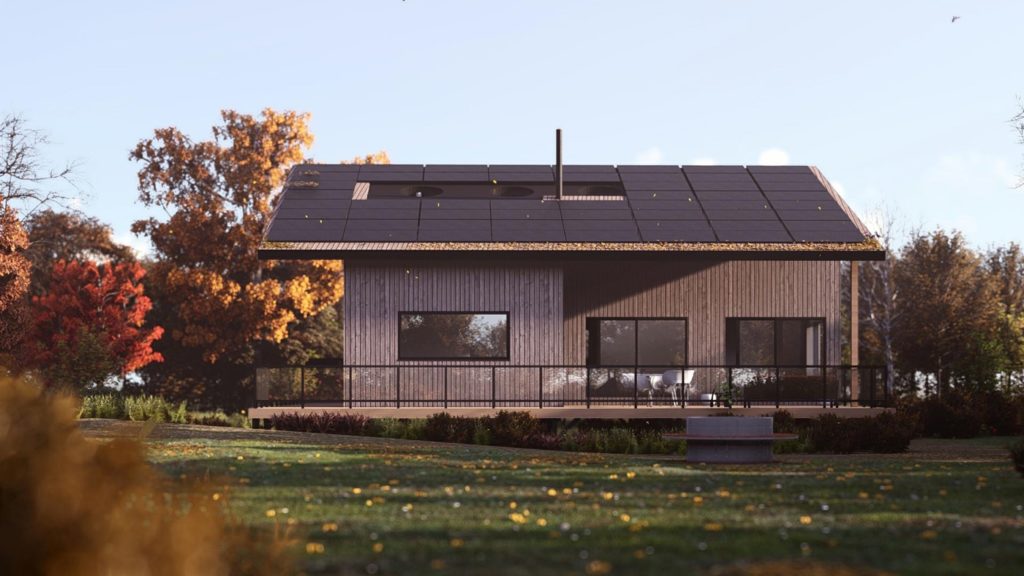 The GES.TALT is currently CABN's largest model, offering 4 bedrooms and 3 bathrooms. Anchored by a large kitchen-living room, the 1850 sqft home features a dedicated dining room as well as a first floor master with ensuite.
On the second floor there are three bedrooms with a shared full bath. Also on the second floor is an office, with the potential to be reimagined as a family room, extra guest accommodations, or playroom.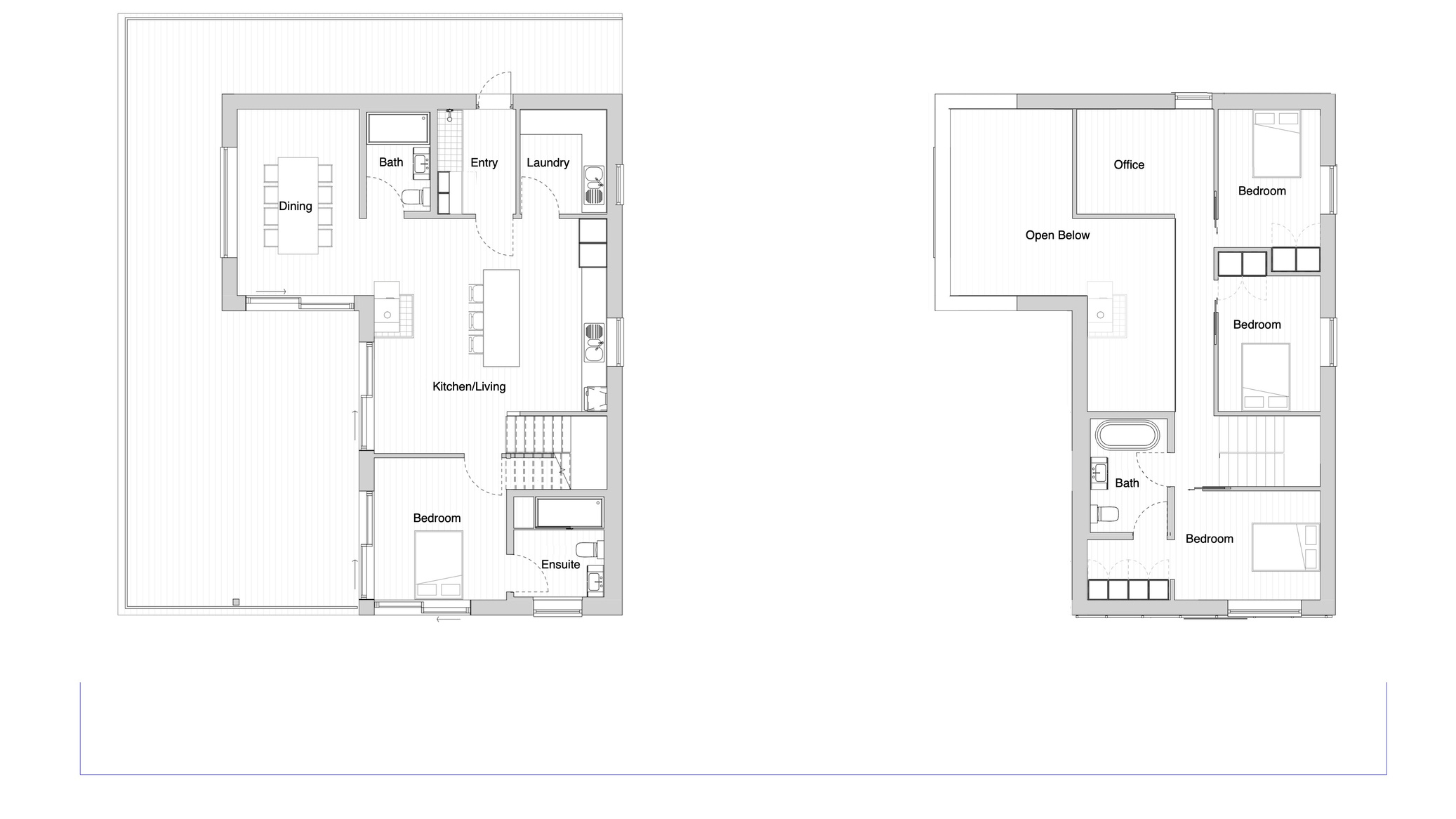 Photo courtesy of CABN