Score
A classic NYC must go for Pizza in Midtown Manhattan, original owner Roberto and his daughter Giorgia have taken pizza making to new heights. Their wood-fired oven imported from Italy along with all the ingredients they use, makes them one of the best Neapolitan pizzas in this neighborhood. Giorgia won first place in the "Classic Pizza" category at the Caputo World Cup Pizza Competition in Naples.Yes the motherland of Neapolitan Pizza! She was the youngest of only two women to ever win back in 2013.
So the Montanara, for which she won the price, is a must try at Don Antonio. Along with other interesting and delicious offerings, like the other so simple but oh so delicious classic Margherita, the Truffle Burrata Pizza with Prosciutto di Parma, Tomatoes and Basil, the Sorrentina with Lemon Slices, the Kesté with Arugula, Basil and San Marzano tomato sauce, Puttanesca with Anchovies, Olives, Fresh Garlic and Oregano, Pistacchio & Salsiccia, and Calzone Fritto among other delish.
Kesté on Bleecker street in the West Village, Roberto's other pizza restaurant, is not to be missed either. Much smaller and intimate vibe, the quality is equally a delight. Giorgia is passionated about her craft and teaches the art of pizza making to adults and children at the Késte Pizza School.
Specialities
Montanara, Margherita, Truffle Burrata Pizza with Prosciutto di Parma, Tomatoes and Basil, Sorrentina with Lemon Slices, Kesté with Arugula, Basil and San Marzano tomato sauce, Puttanesca with Anchovies, Olives, Fresh Garlic and Oregano, Pistacchio & Salsiccia, Calzone Fritto.
Good wines and cocktails
Sample Menu
Owner and Pizza Artist Giorgia Photo @donantonionewyork Instagram

Yellow Margarita Photo @donantonionewyork Instagram

Sorrentina Pizza Smoked Buffalo Mozzarella with sliced lemons. Photo @donantonionewyork Instagram

Pizza Puttanesca Photo @donantonionewyork Instagram

Photo @donantonionewyork Instagram

Pistacchio & Salsiccia. Fresh pistachio pesto, mozzarella and sausage. Photo @donantonionewyork Instagram

Truffle Burrata Pizza with Prosciutto di Parma. Photo @donantonionewyork Instagram

Don Antonio Pizza

Don Antonio Pizza

Don Antonio Pizza
---
Don Antonio New York
Reservations
Call: +1 646-719-1043
Open Table
---
Michelin Bib Gourmand: good quality, good value cooking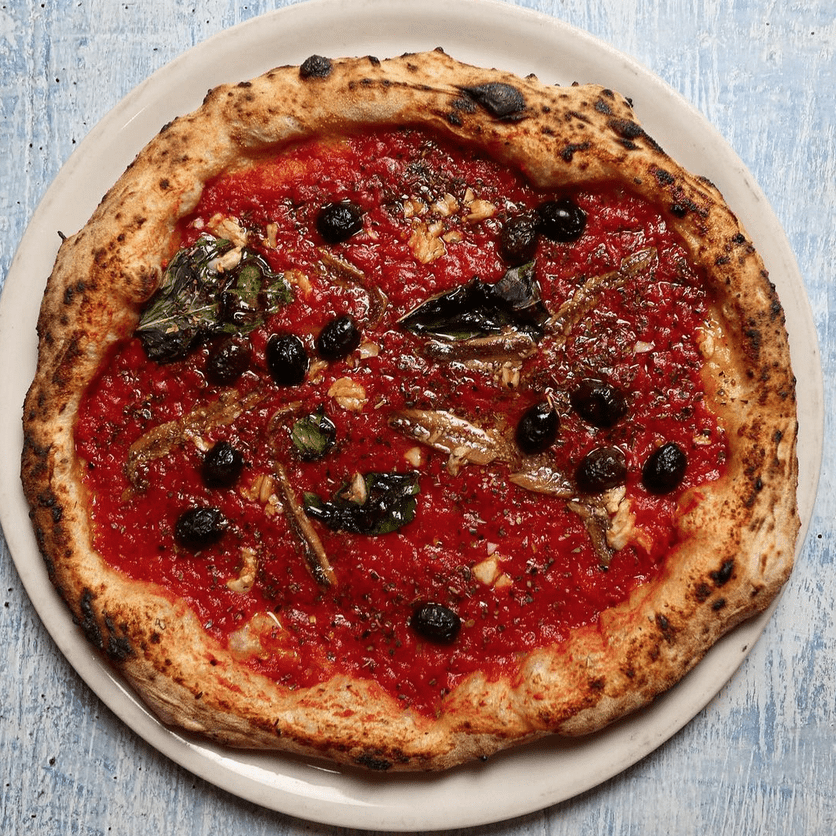 DON ANTONIO