This is a friend's family vegetarian lasagna recipe that I slightly adapted. Its cheesy and heavenly. Perfect to make a bunch ahead of the winter to freeze and reheat.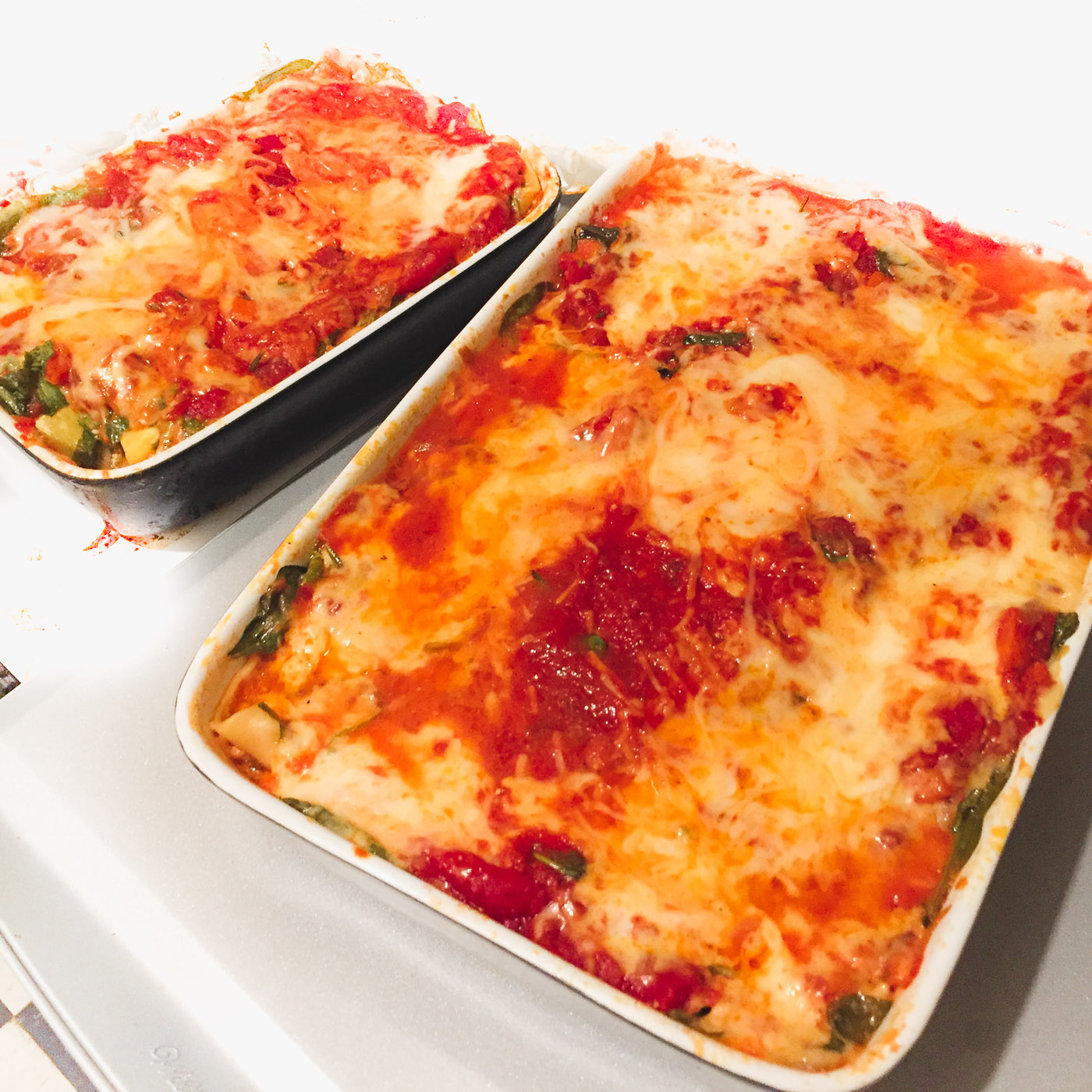 What you need
+ 1 box of Lasagna Sheets, cooked according to package directions.
+ 1 Large 4 or 8 quarts ceramic dish.
Cheese
+ 1 Large Container of Cottage Cheese (large curd), with one raw egg stirred into it.
+ 2 Large Packages of Shredded Mozzarella Cheese.
+ 1 Large Package of Shredded Parmesan Cheese.
Vegetables
+ 5 Cloves Garlic, crushed.
+ 1 Large White Onion, roughly chopped.
+ 1 Can of San Marzano Roma Tomatoes, stewed, slightly mashed.
+ 1 small can of Tomato Paste
+ 1 to 2 medium cans of Diced Tomatoes, 1-2 cans.
+ 1 Basil Bunch
+ Your choice of vegetables.
Flavors
+ 5 tbsp Olive Oil
+ 1 to 2 Bay Leaves
+ 1 tbSP Oregano
+ 1 tsp Chili Powder
+ 1 tbsp Worcestershire Sauce (or more to taste)
+ 1 to 2 tbsp Brown Sugar
+ Salt and Pepper
Preparing the Lasagna sauce…
Cooking the vegetables….
Heat the olive oil in large pot and add crushed garlic…do not burn.
Add the chopped onion and black pepper to taste. Along with any other vegetables you would like to add.
 Here I only used whole basil leaves which I find delicious.
Add just enough salt (start with small amount) to season and allow veggies to soften.
Add the stewed tomatoes, tomato paste and diced tomatoes. Depending on how much you sauce you desire, add more or less tomatoes. Mash the stewed tomatoes a bit, but maintain chunkiness.
Adding the flavors….
Add salt…but do not over-salt as it takes a while for flavor to develop, but definitely do not under-salt.
Add spices to taste : oregano, basil, chili powder, bay leaf, brown sugar, Worcestershire
 sauce.
Let cook and simmer for at least 1 hour…up to 3-4 hours ideally, stirring and adjusting spices and salting to taste as necessary throughout simmering process.
Put on a little music maybe?
Meanwhile….
Before you anticipate finishing sauce, start cooking the lasagna sheets in a large boil of water.
If using zucchinis, toss themi with olive oil and season to taste with salt and pepper. Roast them on parchment paper for 8 min at 450º F. Turn the slices and toast for another 5 min.
If using spinach, steam them for 2-3 min. Rinse briefly with cold water. Squeeze excess water and chop.
Alternatively if feeling lazy its okay not to roast the zucchini nor steam spinach and just throw them raw in the lasagna. Just don't salt them so they don't release too much water.
Layering the the lasagnas…
In a large oiled

lasagna pan

, place a scoop of sauce then place one layer of lasagna sheet.
Smear a layer of cottage cheese and egg mixture. Then zucchini, spinach or basil if using.
Add a scoop of sauce.
Layer some cheese.
Layer lasagna sheet, but perpendicular to the previous one.
Repeat layering until you fill up the pan.
Top the pan assembly with more sauce and nice cheesy top layer.
Finally, baking the lasagnas…
Cover with tin foil and cook at 350º F for 40-50 minutes, then remove tin foil and cook for another 15 minutes or so to brown / toast the top layer if desired.
Remove lasagna from the oven and let sit for 5-10 minutes to allow ingredients to congeal.
Now go for a couple runs around the block and more…
About that bike taking the dust, why not customize it and take it for a spin?
More food decadence…