Legendary Jazz clubs are part of NYC's history. The greatest have all played these venues. If you are wondering, yes they still do. And that's one good reason to weave through the exceptional jazz scene that this city offers, knowing where to go to avoid the often times overpriced tourist traps. Not that you can't get a good jazz experience pretty much anywhere here, but some places try to keep the spirit of jazz alive. While some would argue jazz is done, I don't believe so. And you can be part of it's renaissance if you just open your ears and listen. Or best yet, play. For those who can.
And the winners are: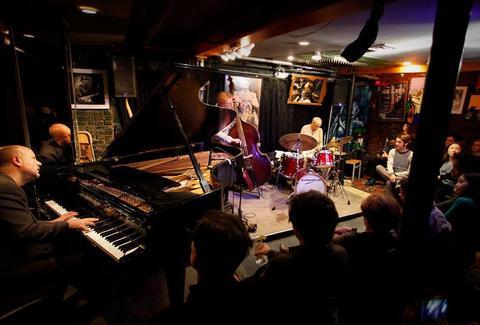 Smalls (West Village)
183 West 10th Street New York 10014, USA
One of the best in town for catching tunes at anytime of the night!
Smalls Jazz Club has emerged as the top club of its kind – a throwback to another era when jazz clubs were both proving ground for top artists but also social scenes for the jazz community. The original Smalls was a raw basement space and had no liquor license. For just $10, patrons could bring their own beer and come to the club at any time, day or night. They could stay as long as they liked and often left just as day began to break. Borden's concern was only with the music and the musicians who created it. Under his generous care, a culture of vibrant and newly energized young musicians claimed Smalls as their home base and began to develop their individuality in the music.
Jam sessions almost daily after 10pm set. Musicians playing at the jam sessions will not be charged.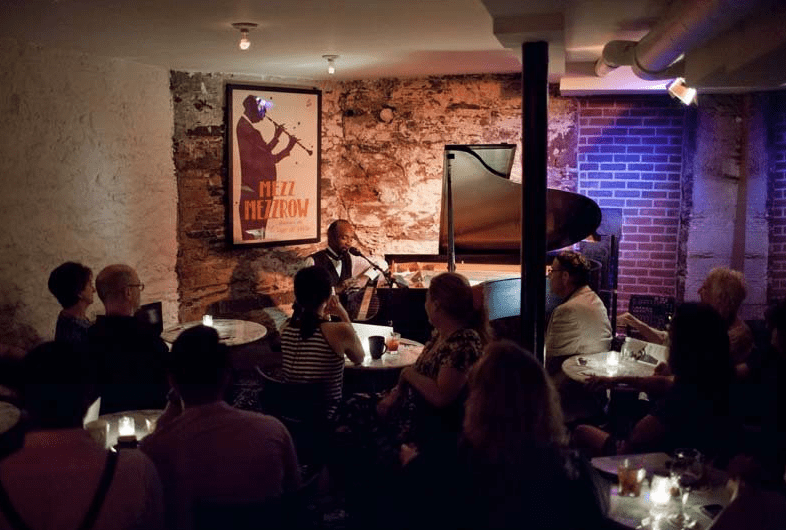 Mezzrow Jazz Club (West Village)
163 West 10th Street, New York 10014
Mezzrow, Smalls second club, located in a basement on West 10th near 7th ave, is dedicated to the great "Really The Blues" Mezz Mezzrow. Mezzrow draws its inspiration for the great piano rooms of the New York past.
Doors open at 7PM. You may walk-in on a show depending on availability. Walk-in music charge is $25. There is a one-drink minimum per set for everyone who enters. Student prices, with valid ID, is $10 for the late sets during the week. Musicians playing at the jam sessions will not be charged.
Village Vanguard (Greenwich village)
178 7th Avenue South, New York, NY 10014
One of the oldest jazz Club of NYC, The Vanguard is sure to offer you the authentic jazz club experience. Just amazing musicians and their instruments, in a small room down the stairs in the basement. Very high quality Jazz in an 'old school' village venue. No food here, just good jazz and drinks. A piece of history is there, with great sound, the walls have heard them all: from Miles Davis to Thelonious Monk, Sonny Rollins, Charlie Mingus, Bill Evans (a regular there at the time), Stan Getz, and many more legendary acts.
Tickets are $35.00 for a set, and you have to buy at least one drink.
Smoke Jazz & Supper Club (Upper West Side)
2751 Broadway, New York City, NY
"Smoke Jazz Club is one of New York City's premier live music venues. Renowned for offering top-notch programming of accessible, timeless jazz featuring legendary performers, modern masters, and rising stars, Smoke stands apart with its candlelit dining room, stellar acoustics, and classic American cuisine. After 20 plus years and one global health crisis, Smoke reopen in 2022 bigger and better than ever with additional space allowing for more distance between patrons without sacrificing any of the prized intimacy and proximity to the stage that make Smoke a top destination for any jazz lover."
Lounge: Wed – Sun | 4pm – Midnight
Listening Room: Wed – Sun | 5pm – 11pm
Ornithology Jazz Club (Bushwick Brooklyn)
6 Suydam St, Brooklyn, NY 11221
Ornithology Jazz Club is a bohemian Jazz performance space in vibrant Bushwick, offering a wonderful selection of affordable classic and signature cocktails alongside with daily Vegan Chef Pop-Up from 7pm to midnight.
Classic Cocktails $12 / Signature Cocktails $13
Happy Hours 6 to 8pm Daily / Classic Cocktails $8
---