Description
3 in 1 Aurora Star Projector
You can have both northern lights and stars working in unison or independently according to your preference. You will have up to 16 lighting effects with the 4 basic aurora colors (Red, Green,Black, White) , they can display by separation or combination, static or moving, fast or slow, just like you are in the northern lights world. Create a aurora borealis disply and miraculous ambience to your room.
Bluetooth Speaker & Sound activated
This galaxy projector also built-in 5.0 speaker, you can connect your devices via Bluetooth to play music, and it also allow the lights projection sync with the music beat, creating a disco party light effect or the soft ambience. Perfect for party, relaxing and bedtime, create all the atmosphere you need.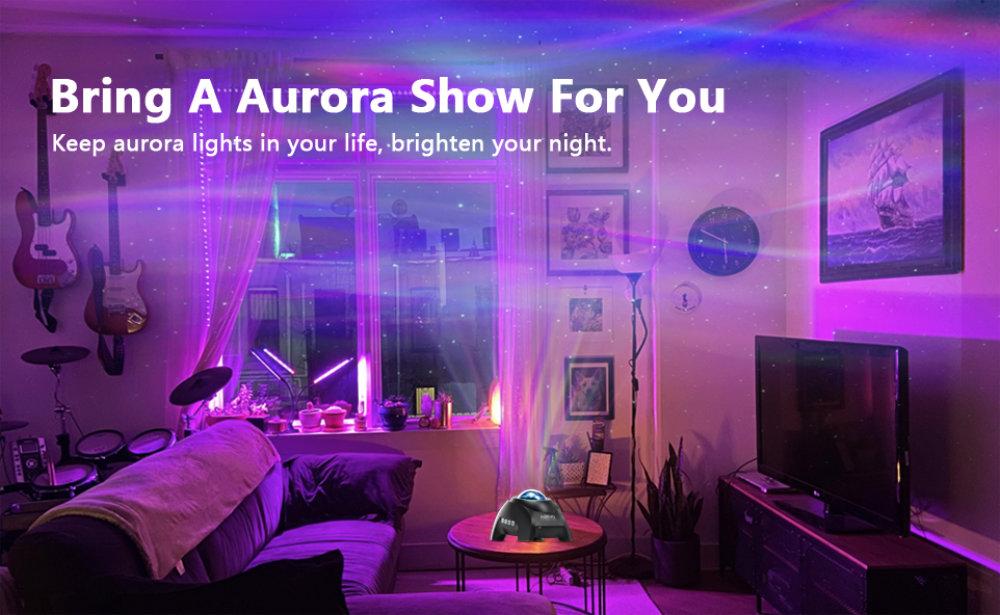 8 Soothing White Noise & Auto Off Timer
There are 8 white noise songs on this night light projector, which are a varied selection of relaxing sounds, from birds tweeting and chirping through running water, soothing chimes and crackling firewood. Options built-in 1hour, 2 hours and 4hours (default setting) auto off timer, to bring you a convenient power saving way that you don't need to worry about forgetting to turn off the light when you fall asleep.
4 Brightness & 4 Motion Speeds
4 adjustable brightness and 4 light flow speed for your option. You can choose different level brightness according to your needs. The maximum brightness one is suitable for daytime while the minimum brightness perfect for bedtime or nursery.
Ideal Gift for Adults & Kids
Star projector is suitable for birthday, party, room decor, children's day, Christmas, Anniversary gifts. Northern lights creates a wonderful and stunning atmosphere to help children stimulate their curiosity, imagination, and creativity.Perfect for Room decoration as a romantic mood light, baby night light and bedside lamp.